He loves people
like i mean loves people and we've been introducing him to so many people
and never gets tired of meeting somebody new and he's met a few dogs and
all he wants to do is play. I have a friend who is interested in getting a dog and is
in love with Kobi and his breed. She's been trying to convince her husband
to getting a dog but his concern is b/c they have a cat that is probably
going through his last couple of months and wanted to wait to see what
happens with him first but they both said if they were to get one they
would want one just like Kobi. They have 2 young kids that they have
introduced to Kobi as well and they can't get enough of him. So probably
next summer if you are having another litter of them you most likely have a
definite sale!
Stephanie Chiarelli
Hi Dorthe
Ziva continues to be an absolute joy! She is so social - loves everyone - gets along with any dog, yet is so loyal and attached to John and I an Gwen. She loves hiking in the mountains with me and Gwen and company or napping on daddy's lap is great too. We are a very happy family and thank you for such a wonderfull dog.
Take care
Stephanie
Tryon, North Carolina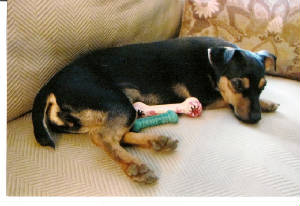 Ziva and Gwen
Hi Dorthe
Patches (Molly + Bailey 2nd litter) is home and doing fine. I sure missed today. When I went to pick her up this afternoon after her operation (spaying) and micro chipping, her vet was sitting holsing her just like a baby. She is so sweet and I'm so happy we adopted her. She sleeps in our bed at night but she will sleep in the cage for tonight (maybe). I'm sure she'll want in the bed though and I don't want her to get lonely. I want you to know how happy I am you chose me to be her new mom. I could never give her back.
Again thanks to you both
Barb Disotell
Cornwall, Ontario
Hello Dorthe!
---

We just wanted to let you know how Gunner is doing. I created you a short presentation with some pictures, that I know you will enjoy. Right now we are having difficulties loading it, but we promise to have it to you as soon as possible. Gunner is such a great little guy, and has already brought tones of much needed joy to our family! The ride home was long, but he was never sick, and has yet to make an accident in the house (woo-hoo!) He slept through the whole night that night, and has been a very busy lad, playing and having fun with the kids, cats, and his new big brother Tucker. He loves swimming in the pool, and digging outside! We couldn't be happier; he is one of a kind! Thank you so very much! We will keep in touch with you, just to keep you updated.
- The Gaudin Family